AK47 anti Kalashnikov
Bullet-proof Security Door
Dedicated counter frame, in galvanised sheet steel with a total thickness of 20/10, reinforced with 100/10 solid iron flat-drawing on three sides and a 20x20 mm solid iron square on the floor rebate.
Frame in pickled, pressure bent and welded sheet steel, painted on both sides in a colour similar to RAL 7043, with a total thickness of 20/10. Structure consisting of a galvanised pressure bent 15/10-thick steel sheet. Ballistic steel plate, 40/10 mm thick, covering the entire exterior surface of the door. Galvanised sheet metal perimeter leaf profile pre-filmed on the exterior, dedicated sealing strip inserted in the dedicated seat in colour similar to RAL 7043. 3 (two) hinges, adjustable in height and width, made of ø 22 mm drawn steel with ø 10 mm cemented steel pin rotating on a ball equipped with hinge cover caps the same colour as the frame.
30/10 thick lock reinforcement plate. Double bit reconfigurable (DMR) lock equipped with 3 final keys in sealed envelope with cipher change tool, ownership card and a site key. The lock is protected by a manganese plate with guillotine operation that can be operated internally by means of a rotary knob that closes the key entry from the outside Reinforcing omegas made of 15/10-thick pressure bent galvanised sheet metal, insulated internally by inserting sound-absorbing materials. Internal insulation via the introduction of soundproofing materials inserted within the vertical reinforcement structures and on the entire inner surface of the door Internal covering, applied to the door via the introduction in the dedicated seat envisaged on the perimeter leaf profile. Lower side bolt with ø 18 mm deadbolt, range of 30 mm. ø 18 mm vertical deadbolt, range of 30 mm. Bullet-proof threshold on the floor.
Technical diagrams and dimensions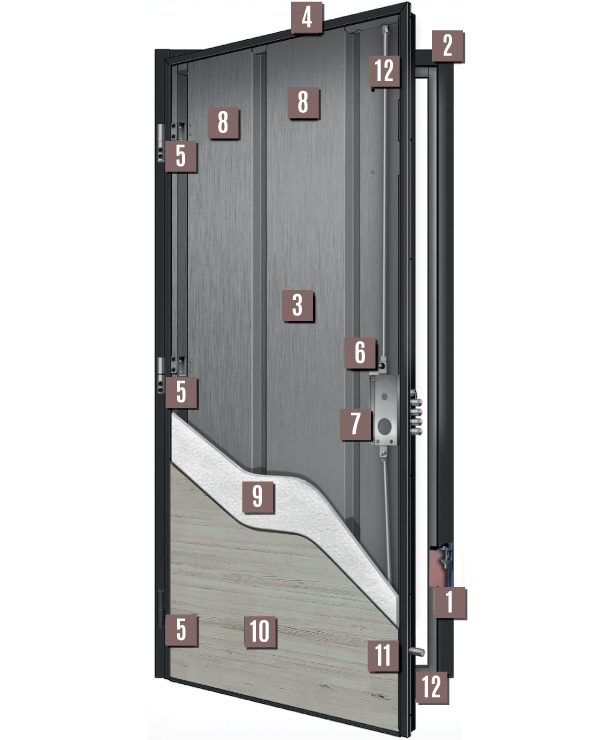 | TYPE | STANDARD |
| --- | --- |
| THERMAL TRANSMITTANCE | 2.7W/m²K |
| ACOUSTIC INSULATION | 28dB |
| AIR PERMEABILITY | npd |
| RESISTANCE TO WIND LOAD | npd |
| WATER TIGHTNESS | npd |
| | |
| --- | --- |
| 1 | Dedicated counter frame, in galvanised sheet steel with a total thickness of 20/10, reinforced with 100/10 solid iron flat-drawing on three sides and a 20x20 mm solid iron square on the floor rebate. |
| 2 | Frame in pickled, pressure bent and welded sheet steel, painted on both sides in a colour similar to RAL 7043, with a total thickness of 20/10. |
| 3 | Structure consisting of a galvanised pressure bent 15/10-thick steel sheet. Ballistic steel plate, 40/10 mm thick, covering the entire exterior surface of the door. |
| 4 | Galvanised sheet metal perimeter leaf profile pre-filmed on the exterior, dedicated sealing strip inserted in the dedicated seat in colour similar to RAL 7043. |
| 5 | 3 (two) hinges, adjustable in height and width, made of ø 22 mm drawn steel with ø 10 mm cemented steel pin rotating on a ball equipped with hinge cover caps the same colour as the frame. |
| 6 | 30/10 thick lock reinforcement plate. |
| 7 | Double bit reconfigurable (DMR) lock equipped with 3 final keys in sealed envelope with cipher change tool, ownership card and a site key. The lock is protected by a manganese plate with guillotine operation that can be operated internally by means of a rotary knob that closes the key entry from the outside |
| 8 | Omega reinforcement in 15/10 thick galvanised pressure bent sheet metal, insulated internally via the introduction of special soundproofing materials. |
| 9 | Internal insulation via the introduction of soundproofing materials inserted within the vertical reinforcement structures and on the entire inner surface of the door. |
| 10 | Internal covering, applied to the door via the introduction in the dedicated seat envisaged on the perimeter leaf profile. |
| 11 | Lower side bolt with ø 18 mm deadbolt, range of 30 mm. |
| 12 | ø 18 mm vertical deadbolt, range of 30 mm. |
| 12 | Bullet-proof threshold on the floor. |