Magnifico counter frame
Magnifico is Scrigno's new system based on IronLev technology, used in the transport industry, which uses magnetic levitation to induce and facilitate movement. A revolution, irreversibly changing the interior door manufacturing industry.
Zero initial inertia. No friction and wear. Soft closing and opening. Movements that can be performed with maximum lightness and total absence of noise, for perfect indoor comfort. Magnifico constitutes a revolution in the world of sliding opening systems because it uses magnetic levitation to guide the door movements. Which are thus not only accompanied, but managed in a totally smooth way.
The technology behind the revolutionary innovation launched by Scrigno is called IronLev technology, borrowed from the transport industry.
The system is based on the insertion into the hangers of a series of special magnets that, in generating an attraction on the central support of the sliding system, support the door, both in a static condition (i.e., when stationary) as well as during movement. Magnetic levitation requires no energy consumption, but is totally passive and helps to reduce the friction of the components and, consequently, the noise of the sliding action. The result is a feeling of lightness and comfort for everyday use. Just think that if an applied force of 1.2 kilograms is normally required to open a sliding door, with Magnifico 200 grammes are enough.
The absence of friction also ensures the durability of the solution, compared with more traditional ones. The solution is fitted with soft opening and closing as standard and is available in different sizes and heights for both plaster and plasterboard.
Technical diagrams and dimensions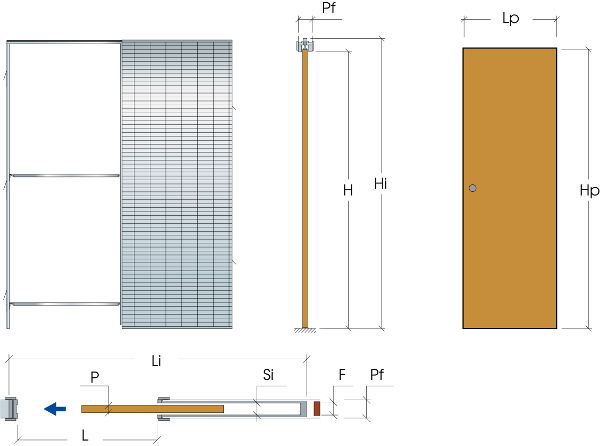 For plaster
Opening width
Overall dimensions
Door dimensions in mm
Finished wall in mm
Thickness of support wall in mm
Internal space in mm
Door thickness in mm
L
H
Li
Hi
Lp
Hp
Pf
F
Yes
D
600
2000/2100
1310
2100/2200
630
2010/2110

105
125
145

80
100
120

69
89
89

43
43
43
700
1510
730
800
1710
830
900
1910
930
1000
2110
1030
Capacity: 25/40 kg
Soft opening and closing as standard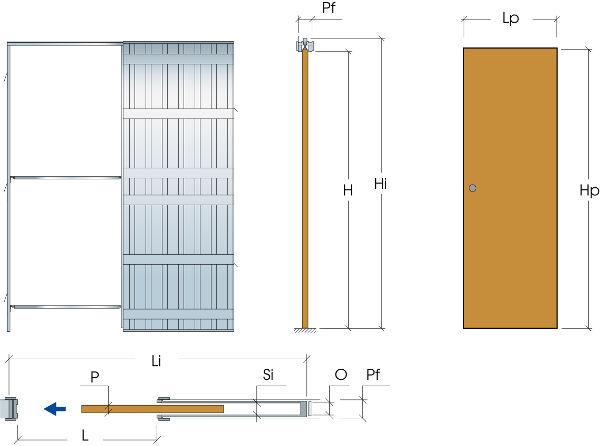 For plasterboard
Opening width
Overall dimensions
Door dimensions in mm
Finished wall in mm
Thickness of support wall in mm
Internal space in mm
Door thickness in mm
L
H
Li
Hi
Lp
Hp
Pf
F
Yes
D
600
2000/2100
1310
2100/2200
630
2010/2110
100
125
75
100
54
69
40
43
700
1510
730
800
1710
830
900
1910
930
1000
2110
1030
Capacity: 25/40 kg
Soft opening and closing as standard